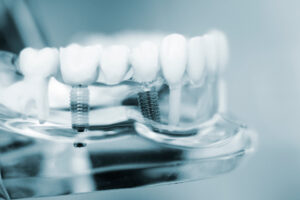 It goes without saying that tooth loss is an outcome many people would prefer not to endure. The unfortunate truth of the matter is, however, that in several circumstances, this phenomenon cannot be avoided. Indeed, tooth loss can result from a variety of dental issues, including major infections, physical accidents or injuries, and of course, necessity. In today's blog, your North Hollywood, CA dentist discusses the need for replacement teeth, and how biocompatible dental implant posts serve several functions to restore bite function.
Completing Your Smile Once More
Taking care of your smile is a lifelong process, one that follows you well into adulthood. Not only are our teeth some of the strongest bones in the human body, but they are often some of the most targeted structures out there. For instance, every smile contains oral bacteria, and attempting to rid the mouth of them completely is all but possible. As a result, the next best course of action we can pursue includes providing regular preventive dental care.
Although dental prevention is considered to be the name of the game when caring for your teeth, it is also important to keep in mind that it can, and does, fall short from time to time. When this occurs, you may develop bacterial infections such as tooth decay, gum disease, or some other concern.
Early stages of tooth decay, in particular, may be difficult to detect early in the process without regular checkups. In extreme cases, this infection can spread rapidly, compromising an entire tooth before your very eyes. In cases such as this, your dentist may recommend an extraction to mitigate the infection at its source. To learn more about this process, give our team a call today.
A Solution to Functional Complications
As you might imagine, even though there are benefits to extraction, there are also consequences to removing a tooth. For example, a single missing tooth can significantly influence your bite function, making routine tasks such as biting and chewing much more of a chore than they have to be. Fortunately, this is where dental implants come in to help.
You see, a dental implant consists of a biocompatible post that functions in a similar manner to a tooth root. This function allows your artificial crown to absorb the pressure of your bite appropriately, thus contributing to functional processes. Contact our team to learn more.
Keeping Your Jaw Strong
In addition to completing your smile and addressing bite function, a dental implant helps stabilize your replacement tooth while simultaneously stimulating the jaw bone. This not only keeps your bone structure strong, but it completes the symbiotic relationship between a tooth and the jaw bone.
Learn More Today
Contact Modern Smiles in North Hollywood, CA by calling 818-763-9353 to schedule your next appointment with our team and learn more about the functional, structural, and cosmetic benefits of dental implant posts.