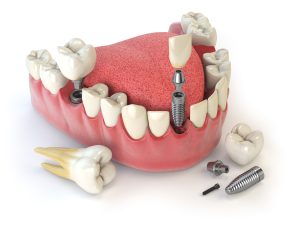 The last thing a person wants to experience is losing a permanent tooth. After all, once it is gone, it will not come back. Indeed, tooth loss can result from a variety of factors, but the most common concerns arise from tooth decay and infection. What's more? Many people might not seek treatment until their condition has spread or developed significantly, as it is often at this stage that people begin to experience noticeable signs and symptoms. In today's blog, your North Hollywood, CA dentist will discuss the need for tooth extraction and how you can benefit from a custom dental implant.
When Tooth Loss is Unavoidable
Because they take care to brush their teeth regularly, many patients do not keep the possibility of tooth loss at the forefront of their minds. This means that when major oral complications arise or develop, patients may feel blind-sided or surprised. The truth of the matter is, however, that your smile is consistently on the defensive against a barrage of threats such as bacteria, infection, disease, and more.
In some situations, tooth decay may have developed without your knowledge and progressed significantly. What's more? There reaches a point where restorative treatment such as a tooth filling or root canal therapy will not be enough to stop the decay progression. In cases such as these, your next best step is dental extraction to help mitigate the spread of infection to surrounding teeth.
Indeed, a compromised tooth is not the first choice for anyone, but sometimes it is unavoidable. As a result, it is important to do what is best for your smile, even if that means extraction. To learn more about this process, give our team a call today.
The Functional Complications
Once your tooth has been removed, however, you face a new set of complications that arise from the now-present gap in your grin. Indeed, your teeth function to help in processes such as eating and speaking, and even one missing tooth can complicate the way your structures absorb your bite pressure. What's more? Once you lose a tooth to infection, your chances of losing more surrounding teeth to the same infection increase drastically. As a result, it is imperative to have the structure replaced. Contact our team today to learn more about this process.
Restoring Your Smile
Dental implants not only help complete your smile once more but their biocompatible post is designed to function as an artificial root so that your oral function can be restored as well. Once completed and healed, you will be able to regain most of your bite function once again.
Learn More Today
Contact Modern Smiles in North Hollywood, CA by calling 818-763-9353 to learn more about the need for dental implants, and schedule your next visit with our team today.