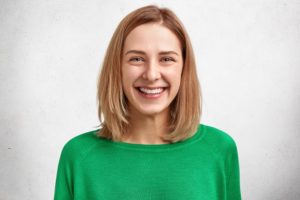 When it comes to replacing missing teeth, dental implants offer the only solution for replacing their roots. As such, implant-supported prostheses offer a large number of benefits that traditional bridges and dentures can't provide. For instance, implant posts are anchored in your jawbone, which eliminates the need for clasps and adhesives. In the case of bridges, it also eliminates the need to rely on healthy teeth for support. In addition to providing unmatched comfort and stability, this also leads to several cosmetic benefits specific to dental implants.
The Point of Dental Implants
The main benefits of replacing lost teeth are reestablishing your proper bite function and restoring your confidence in your smile. Dental implants accomplish this in several unique ways – by supporting your custom-designed prosthesis, and by replacing the roots that helped sustain your jawbone. Besides mimicking your teeth's appearance, your implant-supported crown, bridge, or denture will also mimic the way your healthy teeth are designed to interact with and support your surrounding facial structures.
The Many Cosmetic Benefits
Most modern dental bridges and dentures are designed to closely mimic the structures and appearance of healthy teeth. However, over time, they can start to shift when you speak, laugh, bite, and chew, and that movement can significantly detract from their lifelike appearance. One of the most immediate cosmetic benefits of implants is preventing the jawbone erosion that causes this shifting. This helps keep your new teeth in place much longer, and in addition, helps stop the visual effects of jawbone erosion known as facial collapse.
A More Lifelike New Smile with Implants
The more comfortable and reliable support that dental implants provide helps make realistic-looking bridges and dentures even more lifelike. To learn more, schedule a consultation by calling Modern Smile in North Hollywood, CA, today at 818-763-9353.