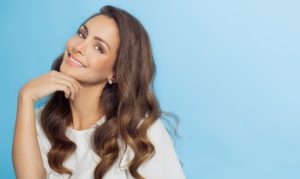 In most cases, faster doesn't mean better, especially when it comes to something as precise as improving your smile's appearance. However, fast and excellent aren't mutually exclusive. For instance, with porcelain veneers, your dentist can transform your smile with incredibly lifelike results, yet keep your treatment limited to a single procedure. Today, we examine why porcelain veneers are often the fastest way to improve a smile, and how you and your dentist can decide if they're the best option for you.
What Porcelain Veneers Do
Many cosmetic smile issues occur on the visible surfaces of your teeth, and addressing them requires different solutions, according to the specific situation. For instance, if your teeth's surfaces are stained, you can erase the stains with teeth-whitening. If a tooth is chipped, you may be able to improve with tooth bonding. Porcelain veneers, however, thin shells of porcelain that are crafted to the precise measurements and specifications of one or more teeth. Each veneer is bonded to the front surface of the tooth, instantly improving its entire visible structure.
Deciding if Veneers Are the Best Option
Because porcelain veneers rejuvenate the visible parts of your teeth, they can be the ideal option for several different types of concerns, including:
Severely stained teeth
Multiple chipped or cracked teeth
Excessive spaces between teeth
Disproportionately sized teeth
Slightly crooked teeth
And more
To determine if one or more veneers is your best option, your dentist will carefully examine your teeth and dental health, then consult with you about your ultimate goals for your smile.
Improve Your Smile Faster with Porcelain Veneers
With an appropriate number of porcelain veneers, your dentist can help you quickly and effectively improve your smile's function and appearance. To learn more, schedule a consultation by calling Modern Smile in North Hollywood, CA, today at 818-763-9353. We also proudly serve patients who live in Burbank, Toluca Lake, and all surrounding communities.