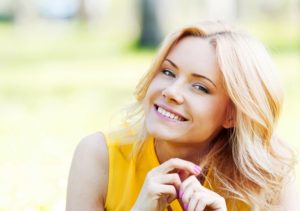 Wishing for a more attractive and youthful smile is common, but that desire often comes with a wish to improve the rest of your facial appearance, as well. In some cases, the appropriate answer is a safe, customized facial rejuvenation procedures, such as Botox or Rejuvapen™, to smooth or prevent facial wrinkles. However, for many patients, smile and facial appearance can be improved simultaneously with a custom-designed Smile Facelift®. By designing a cosmetic dental treatment plan that also takes your facial appearance into consideration, we can help you dramatically improve your confidence quickly and conveniently.
The Point of Building Up Your Smile
Porcelain veneers are the most common cosmetic dental treatment used for a Smile Facelift® procedure. Veneers are thin shells of porcelain that your dentist bonds to the front surfaces of your teeth, instantly building up and improving their visible structures. The main point of veneers is to transform your smile's appearance while fortifying your teeth, and they can be used to also help support your surrounding facial structures.
How a Smile Facelift® Works
When your teeth aren't as full and healthy as they should be, the skin and facial structures around your smile can slightly sag, which can make it easier for wrinkles to develop. The point of a Smile Makeover® procedure is to fortify your teeth to better support these structures, which helps prevent wrinkles from forming and, in many cases, smooth wrinkles that have already started to develop.
Learn More About Giving Your Smile a Facelift
Improving your smile can give a cosmetic boost to all of your facial appearance, and you can improve that boost with a custom-designed Smile Facelift®. To learn more, schedule a consultation by calling Modern Smile in North Hollywood, CA, today at 818-763-9353. We also proudly serve patients who live in Burbank, Toluca Lake, and all surrounding communities.