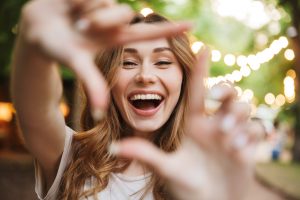 Your smile has an outsized role in determining your self confidence. If you love the way your smile looks in the mirror, you're simply more likely to share that smile with the world. If you look in the mirror and feel self-conscious about yellowing or crooked teeth, you might be more likely to suppress your smile. You deserve to feel confident in the way you look, and with an advanced smile makeover, you can. You may actually be surprised by the degree to which you can transform the state of your smile with a cosmetic procedure like porcelain dental veneers.
What Are Porcelain Dental Veneers?
Porcelain dental veneers are made of thin sheets of dental porcelain. Dental porcelain is a durable material that replicates the surface enamel of natural teeth. Your dentist can shape this material and determine the final color of the material as well. After fabricating your veneers, your dentist will gently smooth and/or shape the surfaces of your natural teeth. Then, your dentist can perform a clean bonding of the veneer to the tooth surface. Your dentist may use a single dental veneer to correct the appearance of one tooth, or an entire set of dental veneers for uniformity.
What Makes Porcelain Dental Veneers Capable of an Advanced Smile Makeover?
Dental veneers can create an advanced smile makeover because they address so many aspects of your smile in a single treatment. The main factors influencing your smile's appearance are the color/shade of your teeth, the size and proportion of your teeth, the alignment of your teeth, and the uniformity of your teeth. Dental veneers can be color-matched to your existing teeth, or used to whiten your smile. They can also be used to standardize the proportions of your smile and cover up any uneven edges or misshapen teeth.
An Advanced Makeover Means Advanced Results
When you choose porcelain dental veneers for your teeth, your dentist will then design a custom cosmetic solution for you. The veneers will be fabricated based on precise, digital measurements of your teeth. The dental porcelain used in the process is lifelike, and designed to match the natural, reflective quality of teeth. You can also totally restore and improve your smile with a single treatment. If you'd like to learn more about porcelain dental veneers, you should reach out to your dentist.
Modern Smiles Delivers Advanced Results in North Hollywood
You deserve to love the smile you see when you look in the mirror. Modern Smiles is committed to creating that sensation for patients. If you're considering cosmetic dental treatment, explore your options with porcelain dental veneers at Modern Smiles. Our digital imaging technology leads to precise results and custom solutions. Learn more by contacting Modern Smiles in North Hollywood, CA at 818-763-9353.