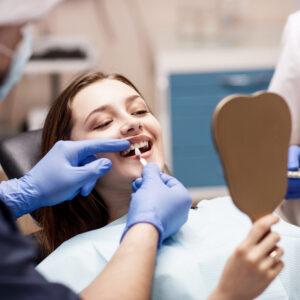 The road to loving your smile and feeling confident/comfortable in your own skin is not always an easy one to tread. After all, you are not only trying to protect your smile from routine threats such as tooth decay or periodontal disease, but from daily interactions such as the types of foods and drinks you consume. Indeed, stains, chips, cracks, and more can develop in a surface-level capacity on your teeth, but cosmetic dentistry has the answer. In today's blog, your North Hollywood, CA dentist takes a look at the different cosmetic treatment options our team offers and how they can enhance your smile.
Various Surface-Level Concerns
It goes without saying that virtually every factor out there is one that can influence your smile's appearance. More often than not, this is a negative impact and, unfortunately, there is not much in terms of natural defenses to prevent these issues from occurring. Because of this, your dentist recommends taking part in a regular preventive routine.
Indeed, age in and of itself is a contributing factor to a dull smile, and additional factors that come into contact with your structures only worsen these chances from here. For example, a number of the foods and beverages you consume contain staining pigments that influence your oral appearance, and use of tobacco products and alcohol can be problematic as well.
When a smile is riddled with multiple different surface-level issues, your best treatment option will likely be that of porcelain veneers. These ultra-thin shells of dental porcelain are designed to bond to the front of your teeth, and only require a minimal amount of enamel sculpting to place. For more information about this process and how our team can help, give us a call today.
Addressing a Gummy Smile
Another cosmetic concern that many might incorrectly believe cannot be treated is that of a gummy smile. Not only do excess gum tissues cause your grin to appear uneven or misaligned, but they can complicate your oral health as well.
With excess tissues overlapping your teeth, it can become difficult to properly clean the area, and you run the risk of higher rates of infection. With the help of gum contouring, however, we can help reduce the presence of excess tissues and reestablish a clean and even grin. Contact our team today to learn more.
Enhancing Your Shine
Finally, if your biggest cosmetic concern is nothing more than a difficult stain or a desire to brighten your grin, then traditional teeth whitening is the treatment for you. This process involves applying a bleaching gel to the surfaces of your teeth, and allowing the material to lift those difficult stains.
Learn More Today
To learn more about your cosmetic dental options, or to schedule your next appointment with our team, contact Modern Smiles in North Hollywood, CA by calling 818-763-9353 today.