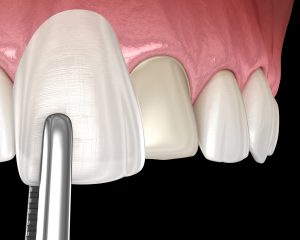 When you have multiple issues with the beauty and function of your teeth, then your Burbank, CA, dentist is ready to help improve your smile's beauty with lifelike porcelain veneers. Creating these restorations with precision, we help address multiple concerns and restore not only the beauty of your smile, but overall health and function too.
Creating Your Custom Restorations
Providing lifelike restoration with precision means that there is no one-size-fits-all approach to smile improvement. Instead, each individual veneer we create is custom-made based on detailed impressions, measurements, and images we take of the prepared teeth. The preparation begins with the dentist removing a thin layer of enamel from the teeth receiving veneers. We then gather the images and information taken of these teeth to begin the design and fabrication process. When you return for a second visit, we check the fit of the completed veneers and if necessary, make final adjustments. The last step involves thoroughly polishing the teeth to ensure a bright and lifelike appearance.
Preserving Your Cosmetic Veneers
To protect them from teeth stains, and to safeguard the teeth they're attached to from issues like cavities, infection, or periodontal disease, you should maintain regular care both at home and in our office. At home, be sure you brush your teeth twice each day for two minutes, and use a fluoride toothpaste each time. We also suggest flossing every night before going to bed as well. Be sure to cut back on sugary foods and drinks too, as they feed harmful bacteria. In our office, make time to see us every six months so we can monitor your smile with a checkup, and remove all plaque and tartar with a cleaning to safeguard the health and beauty of the smile.
Addressing Cosmetic and Restorative Issues
The porcelain we use can be shaded to match the color of surrounding teeth, and also mimics the translucent nature of tooth enamel. As a result, they address a wide array of esthetic issues. For example, we can lengthen teeth worn-down by bruxism (teeth grinding), and repair minor chips and cracks. We also close unsightly gaps between the teeth and reshape malformed teeth too. If you have permanent teeth stains, which may not respond to teeth whitening, we can simply mask them. Finally, we can correct the appearance of minor misalignment to provide an alternative to braces or aligners for qualifying patients.
Do You Have Questions About Cosmetic Dentistry?
Our team understands how to treat esthetic issues and help you enjoy a more attractive smile. For more information on how we treat issues with the appearance of your smile, then schedule a consultation by calling Modern Smiles in North Hollywood, CA, today at 818-763-9353. We also proudly serve patients who live in Burbank, Toluca Lake, and all surrounding communities