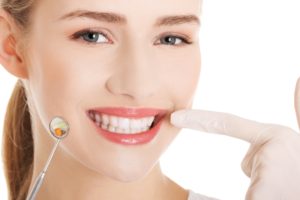 Teeth-whitening is one of the most popular and successful cosmetic dental treatments today. It's popular because it's the most convenient way to erase common teeth stains, which affect nearly everyone at some point in their lives. It's successful because the whitening solution is as strong as it is safe, and because your dentist will examine your teeth first to ensure that the treatment will be effective before recommending it. Today, however, the procedure is made even more popular and successful thanks to the use of advanced laser teeth-whitening in North Hollywood, CA.
Can I really whiten my teeth with lasers?
Teeth-whitening involves a powerful solution designed to break up staining deposits on your teeth's surfaces without harming your healthy, natural tooth enamel. At our office, we can stimulate the gel using a specially calibrated laser that activates the solution's stain-removal processes at an accelerated pace. This means you can enjoy your bright, stain-free smile sooner and with more esthetically pleasing results.
Will the results last longer with lasers?
The stains that develop on your teeth often do so naturally due to the colorful foods and beverages you eat over your lifetime. Therefore, the results of your teeth-whitening treatment may not be permanent, even with the help of advanced lasers. However, once you've brightened your smile, you can prolong the results of your treatment by maintaining a strict schedule of daily hygiene (brushing your teeth twice and flossing your teeth once) and attending regular checkups and cleanings as often as your dentist recommends.
Will laser teeth-whitening affect my crown or veneer?
Like any teeth-whitening treatment, laser teeth-whitening won't affect your porcelain crown or veneer. Because the porcelain doesn't stain, it may not need to be brightened. However, if it has become discolored or damaged, then your dentist might suggest replacing it first and then whitening your smile to match the color and shade of your new restoration.
Ask Your Dentist About the Benefits of Teeth-Whitening
Teeth-whitening has long benefited patients who wish for a brighter stain-free smile. With lasers, you can benefit even more with highly effective, advanced treatment and results. For more information, schedule a consultation by calling Modern Smile in North Hollywood, CA, today at 818-763-9353. We also proudly serve patients who live in Burbank, Toluca Lake, and all surrounding communities.