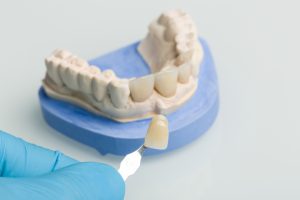 Taking care of your smile is a lifelong process and one that should be heavily involved. After all, your smile is constantly under threat of attack from oral bacteria, decay, infection, and more. While a well-rounded preventive routine can help deter these threats, it only takes falling short one time for them to infiltrate your oral cavity and cause problems. Fortunately, this is where restorative treatment comes in to help. What does that say, though, about surface-level concerns? In today's blog, your North Hollywood, CA dentist explores the impact of multiple cosmetic blemishes, and how dental porcelain offers treatment to help.
Understanding Cosmetic Concerns
It goes without saying that your oral health is among the most important factors to consider when caring for your smile. Indeed, you are constantly facing a barrage of threats, and as such, you should practice a well-rounded preventive dental routine to help keep these organisms at bay. Even still, sometimes you endure situations that result is cosmetic damage, and because it is only surface-level, you may not be inclined to seek treatment. Bear in mind, however, that treatment exists and our team is more than happy to help.
Though your oral health is of the utmost importance to preserve, that does not mean that surface-level concerns should go by untreated. Cosmetic dentistry is any process that tends to these surface-level issues – such as chips, cracks, stains, and gaps – in a manner that enhances your grin's appearance.
Not only are most treatments non-invasive in nature, but they offer solutions that are virtually invisible to detect, meaning you can enjoy the benefits of a gorgeous smile sooner! For more information about this process, reach out to our team today.
Versatility at its Finest
When treating specific blemishes, you have a few different options. For example, teeth whitening can help address noticeable stains as well as brighten your shine. On the other hand, bonding and contouring can address surface-level chips and cracks. But what does this mean for patients whose smiles are riddled with concerns?
Fortunately, porcelain veneers have the answer. This cosmetic treatment involves applying ultra-thin shells of dental porcelain to the surfaces of your teeth. Porcelain closely mimics the natural appearance of teeth, and as such, provides a lifelike finish. Contact our team to learn more.
How You Benefit
As does the name suggests, cosmetic treatment is intended to enhance your smile's appearance, and porcelain veneers do not disappoint. They help address a variety of issues, including chips, stains, cracks, and gaps, as well as provide a brighter, more youthful appearance.
Learn More Today
To learn more about the major benefits of porcelain veneers and how our team can help, contact Modern Smiles in North Hollywood, CA by calling 818-763-9353 to set up your next cosmetic appointment with our team today.