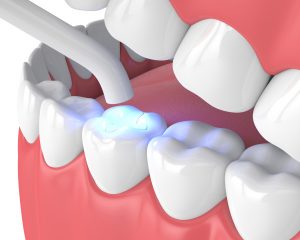 Staying on top of your oral health through routine care and maintenance is the first step to ensuring a lifelong smile. While you may be actively doing so, however, regular practices during the day can still have a massive impact on the health of our teeth, including the foods we eat and beverages we consume. When this occurs, cavities can form and, if left unmanaged, can continue to progress and get worse. Fortunately, this deterioration can be addressed simply with a tooth-colored filling by your North Hollywood, CA dentist at Modern Smiles.
Stopping Bacterial Spread
When a cavity forms, it is due to harmful oral bacteria that is eating away at a tooth's healthy natural structure. These bacteria thrive and grow in the hard-to-reach areas of the mouth, such as behind teeth, between them near the gums, and of course, in the back molars. When this occurs, a hole is formed in the structure that will continue to grow if left unaddressed, potentially causing bigger dental concerns such as infection, decay, and even complete loss.
When you receive a dental filling, your dentist will first clean the area and remove any signs of decay or infection before applying the dental composite. Once that is complete, the composite is applied and shaped to ensure there are no holes or gaps that may allow bacteria to enter. After it is shaped to mimic the natural texture of your teeth, it is then hardened and your grin is restored.
A Lifelike Appearance
A major benefit of a tooth-colored filling is that it can be shade-matched to the exact shade of your grin, providing a cosmetic touch that is aesthetically pleasing. People will hardly be able to tell that you even had a dental treatment to begin with, and it will be virtually undetectable from a distance! Contact our office to learn more about the benefits of fillings.
Preventing Tooth Loss
In addition to the cosmetic benefits, having your cavity filled can prevent future tooth loss. When oral bacteria inhibit a tooth, they are actively working toward breaking down the structure. These microorganisms release harmful acids that work to deteriorate the structure, and can even cause damage to surrounding teeth. If it is not caught early enough, it can result in decay and even loss, causing you to pursue more extensive treatments such as receiving a dental implant to restore your grin. By having the area cleaned and filled, the spread of infection can be prevented and you can enjoy your healthy beam.
Have Your Cavity Filled Today
Contact Modern Smiles in North Hollywood, CA by calling 818-763-9353 to schedule an appointment or to learn more about how shade-matched fillings protect your oral health.