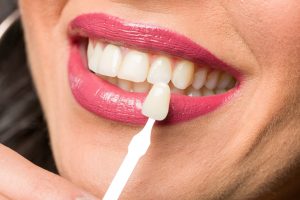 Your smile is one of the first things people notice about you. But obtaining a good smile involves more than just outward appearance or confidence. It's about maintaining your oral health, too. Everything from removing teeth stains and repairing chipped teeth to completely changing your smile's health and appearance are just a few of the options our North Hollywood, CA, dentist offers through cosmetic dental care.
What Are My Cosmetic Dental Care Options?
We offer several cosmetic dentistry options to help you maintain your smile's beauty and health.
Teeth Whitening
Stains can happen even when you take good care of your teeth. They are not an immediate threat to your health, but discoloration can be embarrassing to some patients. A safe bleaching solution is used to break up the stains and brighten your teeth. We offer in-office or at-home teeth whitening options, depending on your schedule.
Invisalign® Aligners
Many patients with crooked teeth may be happy to learn that they don't need traditional braces. Realignment can be achieved using Invisalign. This series of custom-designed aligners helps guide your teeth to their ideal positions. The treatment is often more comfortable than traditional braces and involves fewer visits, too. Straightened teeth offer several benefits, such as a reduction in harmful oral bacteria, less stress on your jaw, better bite balance, and more confidence in your smile.
Porcelain Veneers
Sometimes, patients have multiple issues with their teeth, such as stains, chips, or gaps. Sure, those issues could each be fixed with a different solution. However, custom-designed porcelain veneers may help improve them with a single treatment. Bonded to a tooth's front surface, veneers are thin shells made of lifelike and biocompatible materials. We design each shell through precise digital measurements of your teeth. Cosmetic improvement with veneers offers many benefits, including an improved bite and minimal tooth structure loss.
Gum Contouring
Using laser technology, which is more comfortable and effective than traditional treatments, we can help improve your smile's appearance by creating a more precise gum line. The benefits of gum contouring include reducing your risk of gum disease and an improved gum-to-tooth ratio.
Smile Facelift®
While treatments involving injectables can help you improve your smile, they are often not needed. Our Smile Facelift treatment uses cosmetic dental care procedures like veneers to help improve teeth and overall facial structure. This treatment can offer you a fuller smiler and help give you a more youthful appearance around your cheeks and lips.
Schedule a Cosmetic Dental Care Consultation Today
Cosmetic dental care can provide you with a beautiful smile and help maintain good oral health. For more information, schedule a consultation by calling Modern Smiles in North Hollywood, CA, today at 818-763-9353. We also proudly serve patients who live in Burbank, Toluca Lake, and all surrounding communities.