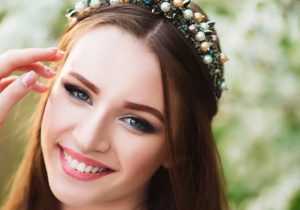 Wanting a more attractive smile is common. After all, besides your eyes, your smile is one of your face's most dominant features. If you aren't happy with it, then your displeasure will show and even further impact your overall confidence. Today, we take a look at some of the most common factors that affect your smile's appearance, and how our catalogue of customized cosmetic treatments can help you effectively address all of them.
1. Stains and discoloration
Teeth stains aren't just the most common cosmetic smile blemish; they can also be the hardest to spot at first. If you keep up with good hygiene, then you see your own teeth in the mirror every day, so a gradual change in their overall color due to staining may not be obvious to you. However, you might still notice that your smile doesn't seem as vibrant as it used to be because of the change, which your dentist can fix with customized teeth-whitening.
2. Tooth alignment
Crooked teeth can affect your smile even if you've never needed orthodontic treatment, and when it does, correcting the condition is the only way to reverse its impact on your smile. Fortunately, you may not need braces to do it – with Invisalign® clear aligners, you can improve your smile's appearance and your bite's function discreetly and conveniently, without brackets and wires.
3. Tooth structure integrity
Like tooth alignment, other issues with your teeth can affect both your smile's appearance and your long-term oral health simultaneously. For instance, a chipped or cracked tooth not only interrupts the uniformity of your smile, can also become more easily infected and interfere with your bite's proper balance. With lifelike veneers or a porcelain dental crown, your dentist can improve the tooth's health, integrity, and appearance, all at once.
Improve Every Aspect of Your Smile
There are many things that can affect your smile's appearance. With the right cosmetic dental treatment, you can improve all of them. To learn more, schedule a consultation by calling Modern Smile in North Hollywood, CA, today at 818-763-9353.