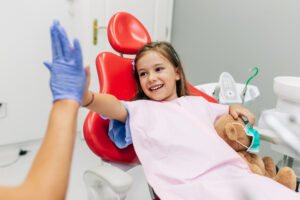 Nothing is more troubling than putting in all of the effort for an effective preventive dental routine just for a physical accident, injury, or nontraditional dental concern to come in and wreak havoc. Indeed, teeth grinding causes significant structural damage, in addition to promoting a greater chance of infection, and seeking appropriate treatment is essential in maintaining a healthy smile for life. In today's blog, your North Hollywood, CA dentist explores the need for children's dental care and shares a few options to consider to help your little one prioritize care.
It's Never Too Early to Start
We all know that as children, we lose our baby teeth in order to make room for our more permanent adult structures. Because this affects everyone, we may be inclined to think that effective dental prevention is not really a huge priority until later in life. On the contrary, the earlier you start preventive care, the stronger and more protected your children's grins will be.
You see, dental prevention is considered to be any treatment that aims to provide additional strength for protecting your smile against bacterial threats, minimizes the presence of plaque and tartar, and overall provides a clean feeling. When you teach your children these habits early, it gives them the opportunity to take initiative in their own preventive care. Moreover, the longer they practice good habits, the better protected their smiles will be.
Our team recommends bringing your children in for a dental checkup by either their first birthday or at the sight of their first tooth. This initial visit allows our team to ensure development is right on track, and it also helps our team acclimate your little one to our office. Contact our team to learn more today.
Bring Them in For a Checkup
At home, you should teach children the importance of brushing their teeth properly and flossing. Brushing in circles helps address more of the plaque that may be present, while flossing can teach them good habits regarding their periodontal or gum health.
In addition to these practices, we would like to start seeing your little one for a checkup starting at the age of three years old. It is recommended at this age that you begin to bring your little one in every six months. To learn more about this process and how our team can help, give us a call today.
Treatment for A Boost of Strength
Tiny smiles sometimes can use a bit of help to stay healthy, and our team is more than happy to provide such assistance. Indeed, children's dentistry also includes fluoride treatment or dental sealants, which both aim to strengthen a child's dental enamel and protect the back molars from cavities, respectively.
Learn More Today
Contact Modern Smiles in North Hollywood, CA by calling 818-763-9353 to learn more about the need for children's dental care, and schedule your family's next checkup with our team today.