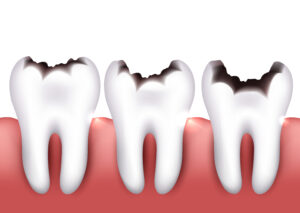 Whether you are aware of it or not, your smile is constantly facing the threats of various factors. These can range from the effects of foods and beverages you consume to the quality of your preventive dental routine and virtually everything else in-between. While so many factors exist that negatively influence your oral health, there are not as many natural defenses in place to protect against them. In today's blog, your North Hollywood, CA dentist discusses the advantages of seeking timely restorative treatment and how a dental filling can address your cavities.
Understanding the Problem
From a young age, you were likely informed of the need to protect your smile from harm by brushing your teeth. Indeed, brushing helps to remove deposits of plaque and tartar that are laden with bacteria. These bacteria are responsible for many dental infections, including gum disease and even tooth decay.
Taking a closer look at tooth decay, this phenomenon occurs when oral bacteria lurk in the difficult-to-reach areas of the mouth and feed off of the sugar particles from the food and beverages you consume. Sugar specifically causes bacteria to produce a destructive acid, which aids in eroding your tooth's structure.
Over time, decay can create small holes in the tooth known as cavities. Though they may be difficult to initially detect with the naked eye, keep in mind that the longer you wait to seek treatment, the bigger they will become. Moreover, the infection itself works its way deeper into the inner portion of your tooth, where it can potentially target your sensitive nerves housed in the roots. For more information about this process, give our team a call today.
Looking at Fillings
Over time, dental decay can slowly but surely compromise a tooth or even an entire smile. Because of this, it is best to seek treatment sooner rather than later. In its earliest stages, decay may present as a cavity, which is best treated using a dental filling.
During a dental filling, our team will take care to first numb the area, then clear away infected portions of the tooth. After the area has been cleaned thoroughly, we will then fill the open hole with a composite resin material, which is then cured using a special light. Contact our team to learn more today.
Stay On Top Of Prevention
Restorative dentistry is essential for addressing issues that arise with your oral health, but the best course of action for a healthy smile is to stay on top of your preventive practices. Make sure that you are taking strides to brush and floss at home, and don't forget to attend your regular checkup and cleaning appointments.
Learn More Today
Contact Modern Smiles in North Hollywood, CA by calling 818-763-9353 to learn more about the benefits of restorative dental care and get your cavities filled sooner rather than waiting until it is too late.