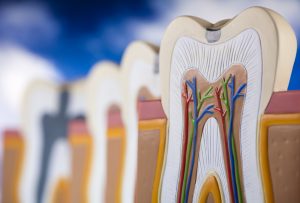 A dental infection may arise due to an untreated cavity, or perhaps as a result of an injury to one or more of your teeth. When a tooth does develop an infection, treatment from your Burbank, CA, dentist is crucial for avoiding serious complications, such as tooth loss. How does a root canal procedure save infected teeth?
The Risks of Untreated Dental Infections
The problem occurs when harmful oral bacteria reaches the inner pulp, the nerve center of your tooth that ensures the proper flow of blood and nutrients to and from your tooth. Typically, the pulp is surrounded by a thick layer of dentin, and protected further by the outermost layer of tooth enamel. However, should poor oral hygiene erode the enamel, or should a tooth develop a crack or chip, then bacteria have a path to the dentin. A porous and sensitive layer of tooth structure, dentin is where cavities form. Eventually, a cavity could spread and allow bacteria access to the pulp. In addition, severe cracks or breakage could also expose the inner tooth structure as well. Without treatment, the problem could cause the pulp to die, which effectively kills the tooth. You may need an extraction to prevent the spread of infection to surrounding teeth.
The Root Canal Treatment
Treatment involves administering a local anesthetic, and possibly sedation, before opening the tooth and removing the infected tissue from within. Next, the dentist cleans the inside of the tooth before applying a restorative filling. After curing the filling, the tooth will be capped with a custom-made dental crown, which not only looks natural, but protects the tooth from further decay or infection. In one visit, we can halt the issue and restore the health and beauty of your smile.
How Do I Avoid Future Infections?
Be sure to wear a mouthguard to limit injury, and let your dentist know if you chip or fracture a tooth. Also, take time to brush and floss daily, which helps limit the chances of a cavity occurring. Cut back on sugary foods and drinks, which fuel harmful oral bacteria, and see your dentist every six months for a checkup and cleaning, so we can watch for warning signs of an infected tooth and remove plaque buildup, protecting the smile. If you have any questions about preventing infection or treating it, then contact our team today.
Don't Ignore Pain in Your Smile
If you have pain in your smile, this could point to advanced tooth decay or even an infected tooth. For more information on restoring decayed or infected teeth, schedule a consultation by calling Modern Smile in North Hollywood, CA, today at 818-763-9353. We also proudly serve patients who live in Burbank, Toluca Lake, and all surrounding communities.