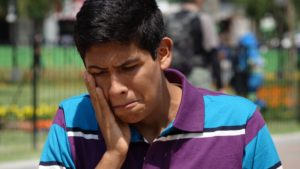 Our temporomandibular joints control the actions necessary to eat and speak. However, when these same joints undergo excessive strain, then a serious oral health issue can arise. TMJ disorder can lead to very uncomfortable symptoms. However, we can help patients in North Hollywood, CA, with TMJ treatment options.
Frequently Asked Questions About Treating TMJ Disorder
Question: What causes TMD?
Answer: The causes of jaw joint strain can include misalignment, malocclusion, tooth loss, and injury to the face or jaw. Eventually, the disorder can lead to problems fully opening and closing your mouth.
Question: What symptoms do patients with TMJ disorder experience?
Answer: Patients may report a popping or clicking sensation in their jaw, along with jaw pain, facial discomfort, headaches, and pain in the neck or shoulders. If one or more of these potential symptoms applies to you, then contact our office today. We can examine your jaw and teeth for signs of strain and friction, recommending the most appropriate treatment option.
Question: How does the dentist treat the disorder?
Answer: Often, we simply prescribe a custom-made oral appliance. Similar in appearance to a nightguard, the device will be worn at night as the patient sleeps. The device then repositions the jaw to ease strain on the joints. However, some cases may require other treatment options. We can also address jaw joint stress with restorations, orthodontic treatment, medication, oral surgery or physical therapy.
Question: Is the issue linked to bruxism?
Answer: Often, untreated TMJ disorder can make bruxism (teeth grinding) more likely. In addition, untreated bruxism can strain the jaw joints and lead to a greater risk of TMD. We can offer solutions to bruxism as well. If you have any questions about treating TMD, or about when to see the dentist for jaw joint disorders, then contact our team today.
Do You Need TMD Solutions?
Our team can offer a variety of solutions to correct jaw joint strain and TMD. For more information, schedule a consultation by calling Modern Smile in North Hollywood, CA, today at 818-763-9353. We also proudly serve patients who live in Burbank, Toluca Lake, and all surrounding communities.