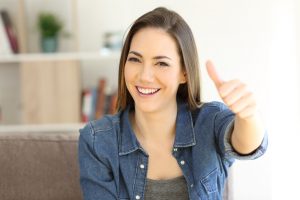 Not everything about dental care has to be high tech. Manual toothbrushes and dental floss have been around for a long time, and they can be excellent tools for taking good care of your smile. A landline is useful: you can call us  to make an appointment for preventive care every six months. But technology makes some great contributions to the way we care for your smile. When you come for your checkups, the advanced dental technology in our North Hollywood, CA office can do some surprising things.
iTero Technology Allows a Truly Custom Experience with Invisalign
If your teeth are not in proper alignment, not only can it mean an awkward smile, but it can also impact your ability to brush and clean between teeth, and it can produce uneven pressures on jaw joints and other oral structures. Invisalign clear braces can move teeth into more correct positions, and our careful measurements with iTero technology make this possible. Unlike physical molds, which can be messy, uncomfortable and time consuming to make, iTero takes a series of digital images, which are combined in minutes to show a full 3D picture of your current teeth. iTero can also show you what your smile can look like after treatment.
Biolase Laser Helps Gum Health
Careful brushing and flossing, along with attending regular preventive visits can go a long way towards preserving gum health. However, we sometimes see patients who need deep cleaning to remove bacteria and infection under the gum line, and the Biolase laser assisted dentistry makes periodontal cleaning highly accurate and more comfortable. The tightly focused beam of light allows precision work for deep cleaning (also called scaling and root planing), among other procedures.
The Power of Digital Images
It's understandable that a patient would want to know what to expect after a procedure. The power of digital images allow us to offer you a smile gallery, with before and after photos of patients. The iTero technology can also show you a digital "after" image, of what your improved smile will look like. 
Let Us Put Our Dental Technology to Work For Your Smile
To learn more about iTero, Biolase laser treatment, or other advanced dental technology available in our office or to schedule your appointment with our team, contact Modern Smiles in North Hollywood, CA by calling 818-763-9353 today.