Dental Implants
Dental bridges and partial or full sets of dentures are no longer the only options for effective replacement of missing teeth. Implant dentistry has revolutionized cosmetic and restorative dental treatment to give patients the ability to permanently replace lost teeth with dental implants. This advanced treatment makes it possible for your replacement teeth to both look and feel natural – almost as if you never lost your original teeth. Dental implants are custom-designed to provide the most accurate fit, and require no other maintenance besides your normal brushing and flossing routines. They also help maintain the health of your teeth and gums by acting in much the same way as natural teeth. If you're interested in a dentist in North Hollywood with dental implant experience, Dr. Kasra Tajik offers dental implant placement and restoration that can significantly improve both form and function of your teeth with permanent results.
If you would like more information on dental implants and dental implant restoration, please contact Modern Smiles today.
Benefits of Dental Implants
Although dental bridges and dentures have proven to be effective for replacement of missing teeth, there are some drawbacks to those procedures that dental implants can overcome. Dental implants improve upon traditional teeth replacement in a number of ways, including:
No maintenance required other than routine oral cleaning habits
Permanent alternative to dentures
Can improve biting, chewing, and speaking
No slippage
No need to grind down adjacent teeth to accommodate a dental bridge
Improves appearance of the teeth with results that look natural
Feels like your natural tooth
Dental Implant Procedure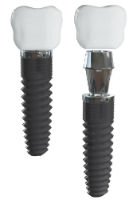 Patients who have missing teeth and strong bone density in the jaws are often ideal candidates for dental implants. Dr. Tajik will help determine your candidacy for this procedure at your initial consultation.
During the dental implant procedure, Dr. Tajik uses an advanced surgical guide to provide the most precise and accurate results for determining implant placement. We utilize the latest state-of-the-art computer imaging technology to capture a 3D image of your teeth that will guide our team in designing and determining the best placement for your dental implants. Dr. Tajik will place a thin, durable titanium rod under the gum in the area of the missing tooth. This rod will anchor directly to the jawbone, where it will fuse itself to the bone over the next few months. During this period, you can have a temporary crown placed over the rod until the fusion is complete. Once the fusion of the anchor to the bone has occurred, the implant is now a permanent part of your mouth, and is ready for a permanent crown. Dr. Tajik will have the crown custom-made and color-matched to blend in with your surrounding teeth. Once placed, the crown will provide the finishing touch to the implant, providing an appearance that looks natural and a feeling like that of an original tooth.
Cosmetic Dentistry and Dental Implants
The experience and skill of a cosmetic dentist is extremely important to the process of dental implantation. Once the implant itself has been placed and it has become a part of your teeth, Dr. Tajik will have a crown created that is custom-designed for the best look and feel possible. Our cosmetic dentist in North Hollywood will work closely with other specialists involved in the dental implant treatment process to ensure that you attain optimal results from the first stage to the last.
Contact Modern Smiles about Dental Implant Restoration
An innovative and permanent solution to provide natural-looking replacement of missing teeth, dental implants have changed the fields of cosmetic and restorative dentistry in many exciting ways. Please contact Modern Smiles to schedule a consultation for this effective treatment.
99% of patients would refer friends and family to us.
5.0


Kathy Leary
Everyone is fantastic! I've avoided the dentist for years and was so thankful to have found this place. Everyone was nice, patient, and calmed my nerves. They absolutely didn't make me feel horrible for putting off the visits. I'll be back!!!