Periodontal Care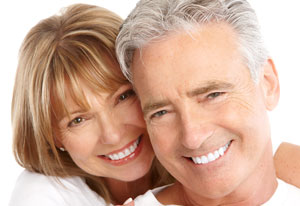 Periodontal disease, more commonly referred to as gum disease, is one of the most common, yet treatable and preventable oral issues. When left untreated, periodontal disease can lead to a number of serious issues including chronic bad breath, tooth loss, and bite alignment problems. In extreme cases, gum disease has even been linked to cardiovascular disease, heart attacks, and strokes.
At our practice, we offer the latest advancements in preventive dentistry. Dr. Kasra Tajik, our highly-trained cosmetic dentist, is experienced in a variety periodontal procedures designed to treat and prevent gum disease. Utilizing advanced surgical and nonsurgical techniques depending on your needs, Dr. Tajik can improve the health of your gums and help you prevent further periodontal issues.
If you would like more information on periodontal care, please contact our office to schedule a consultation with Dr. Kasra Tajik.
Symptoms of Periodontal Disease
The mouth is host to hundreds of different types of bacteria. Although not all harmful, every type of bacteria produces plaque, which can accumulate on your teeth and along your gums if not cleansed properly. When left untreated, this plaque buildup can result in gingivitis – the most common form of periodontal disease – and then progress to more serious and harmful gum diseases and health conditions.
Symptoms of gum disease should not go unchecked or untreated. Some common indications of periodontal disease include:
Irritated and sensitive gums
Bleeding while brushing
Constant bad breath
Shifting of teeth
Bite misalignment
Loose teeth
Loss of teeth
Non-Surgical Periodontics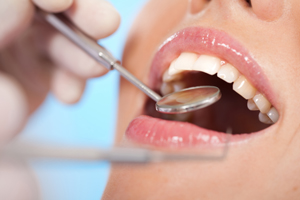 Depending on the severity of your periodontal issue, Dr. Tajik can treat periodontal disease with non-surgical techniques known as scaling and root planing. During these treatments, Dr. Tajik will perform a thorough cleaning of your teeth and root tissues close to your gums in order to reduce bacteria and remove harmful plaque and tartar buildup. Following the cleaning, he will generally prescribe antibiotics or a medical mouth-rinsing solution to aid the healing process and prevent further infection. Laser techniques can then be used to provide a strong seal between your teeth and gums. Following a non-surgical periodontal treatment, you can expect to return to your daily routine immediately.
Advanced Periodontics
Severe cases of gum disease may require surgery to restore oral health. Depending on how far the gum disease has progressed, Dr. Tajik offers four main types of advanced periodontal treatments:
Soft Tissue Grafting – Bacteria is removed and healthy gum tissue is transplanted into damaged areas to replace infected tissue and help spur the regeneration of new tissues.
Bone Grafting – Harmful bacteria is removed and healthy bone tissue is transferred to the affected areas. The transplanted bone tissue also helps to regenerate new, healthy tissues.
Pocket Reduction – Gum tissue is pulled back and bacteria is removed from the exposed pocket. Once all bacteria has been eliminated, the gum tissue is reattached and positioned to reduce the size of the affected pocket.
Crown Lengthening – Excess gum tissue covering the teeth is removed. This allows hidden bacteria and plaque pockets to be cleansed and removed. This treatment can also enhance the aesthetics of your smile by exposing more of your teeth. Crown lengthening can often be achieved utilizing non-surgical laser dentistry.
During your pre-treatment consultation, Dr. Tajik will help you determine the best option for your needs and discuss any downtime or necessary recovery details for the chosen procedure.
Contact Modern Smiles
For more information on gum disease, or to find out if you are a good candidate for one of our periodontal treatments, please contact Modern Smiles today. Our friendly staff will help answer any questions or concerns you may have.