Teeth Whitening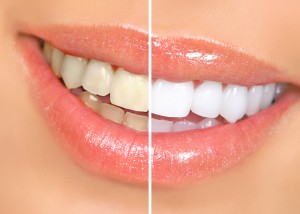 Whether your teeth have become discolored because of coffee or wine consumption, tobacco use, or the natural aging process, our teeth whitening procedures can work wonders at giving you a whiter, brighter smile. The Zoom!® Teeth Whitening procedure involves the application of a special gel on the surface of the teeth. Dr. Tajik will then shine a low-intensity light over your teeth, allowing oxygen onto the teeth to create a bleaching effect on the dentin and enamel. This process can ultimately lighten the color of your teeth by six to ten shades or more.
Please contact Modern Smiles for more information on teeth whitening treatment.
Zoom!® Teeth Whitening

Bright and beautiful teeth can have a wonderful effect on your appearance and your confidence with the way you look. For many people, even the strictest brushing and flossing habits can't stop the natural yellowing and staining of teeth over the years; however, advances in teeth whitening technology have made it possible for you to significantly lighten the shade of your teeth and reduce the appearance of discoloration. With Zoom!® Teeth Whitening, Dr. Kasra Tajik can help you whiten your teeth with treatments available here in our office or for at-home use.
Just one office visit can help you significantly brighten your teeth, and the whole process takes about one hour to complete.
At-Home Teeth Whitening
If you would rather whiten your teeth at home, Dr. Tajik can provide you with an at-home teeth whitening treatment. After examining your teeth and taking a dental impression, a series of custom whitening trays will be created for your teeth. Dr. Tajik will then explain to you how to use the trays at home to achieve a whiter appearance in the teeth. With at-home whitening trays, you apply the whitening gel at your convenience, giving you the flexibility of lightening your teeth to the shade you desire.
Contact Modern Smiles about Teeth Whitening Treatment
If you would like more information on teeth whitening treatment and how to achieve that movie-star smile, please contact Modern Smiles today and we'll make an appointment for you at our North Hollywood dental office. We will be happy to answer your questions!