Porcelain Veneers
Dental imperfections whether as simple as a small chip or more complex such as tetracycline staining or crowding can be easily and considerably improved with veneers. Although some of us inherit misaligned or crowded teeth genetically, teeth can develop stains, gaps, chips, and crack lines over the years that can be corrected with minimally invasive porcelain veneers. Custom-designed to cover only the visible part of the affected teeth, porcelain veneers are wafer-thin, like a contact lens. Modern advances in dental bonding techniques and materials technology, such as IPS E.Max porcelains, have allowed veneers to be reinforced while retaining their beautiful life like luster and totally mimic a natural tooth. This procedure is one of the most conservative treatments in dentistry – in many cases, patients do not even require an anesthetic. They can be an excellent way of improving your smile with results that look natural and last for many, many years!
If you would like more information on porcelain dental veneers, please contact Modern Smiles today.
Benefits of Porcelain Veneers
Porcelain dental veneers have become very advanced over the years, and it's now possible to apply them without sacrificing too much of the affected tooth's natural structure. They can improve a number of dental issues, both aesthetic and functional in nature. In fact, porcelain veneers can even reverse the effects of aging and perfect natural beauty. Benefits of porcelain dental veneers include:
Improves teeth affected by chips, gaps, stains and discoloration, misalignment
Improves uneven smiles
Improves worn-down or short-looking teeth
Because they are handmade for each individual patient, they are almost impossible to differentiate from natural teeth
Highly resistant to staining and discoloration (more than natural teeth)
Can be used to whiten even the darkest teeth that resist traditional whitening methods
Relatively quick process done in 2 or 3 visits over a couple of weeks – immediate gratification
Minimal pain or discomfort
No downtime
Minimal risks or side effects
Can be used to strengthen weakened or cracked teeth
With porcelain dental veneers, you can dramatically improve the look of your teeth and attain a movie-star smile!
The Porcelain Veneers Procedure
Initial Consultation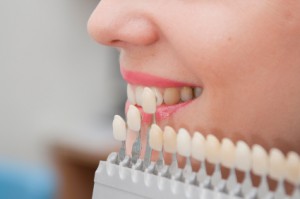 This is the MOST important part of the procedure, and it separates Dr. Kasra Tajik from most other cosmetic dentists. He spends a lot of time at this appointment to make sure he and his patients are on the same page. It is very important that he knows what your desired goals are. Dr. Tajik uses his years of experience to help guide you into achieving the smile you are looking for.
This is an interactive appointment where Dr. Tajik encourages dialogue, and he also encourages you to bring pictures of smiles that you like with you to the consultation. For older patients who desire teeth that appear more like they did in the past, Dr. Tajik asks them to bring pictures of what they looked like when they were younger.
At the initial consultation, Dr. Tajik takes a lot of digital photos at various angles so he can conduct a smile analysis and thoroughly discuss any deficiencies you may have, and how he can improve them. He also does a thorough examination, including x-rays, to check the overall health of your teeth and gums. Many times he will take impressions for a diagnostic wax-up. This is used as a blueprint for your final smile – something you can visualize. The wax-up is also used to give you a trial smile.
Preparation
At this appointment, Dr. Tajik will reshape the existing teeth to make room for the porcelain. Many times this can be done without anesthetic. Molds will be taken to send to our ceramist, and a trial smile (temporary veneers) will be made to give you a "test drive" of your new smile. At this time, Dr. Tajik can make changes to your smile before the permanent veneers are bonded to the teeth.
Try-In
The temporary veneers are removed, and the new porcelain veneers are placed on the teeth. This is where Dr. Tajik checks and makes sure that the fit is perfect, and that the veneers look and feel natural. Again, this is another thing that separates Dr. Tajik from other dentists: he genuinely takes pride in exceeding even the most discerning patient's expectations. Many times he will use different color cements to try and achieve the perfect color. At this time, he will show you your new smile and make sure you are happy with the aesthetics.
Bonding the Veneers
The veneers are ready to be bonded once you and Dr. Tajik are completely satisfied with their fit and appearance. The teeth are disinfected and the veneers are bonded to the teeth using a permanent cement with a high intensity curing light. Dr. Tajik will then check and make sure that the occlusion (bite) is perfect and comfortable.
In just two to three office visits, you can improve a range of dental issues with porcelain dental veneers. These effective treatments are made to both look and feel natural and beautiful. In fact, they look so much like natural teeth, nobody even needs to know you have them! And to top it off, porcelain dental veneers are built to last, with results that can last for decades.
Contact Modern Smiles about Porcelain Dental Veneers
Porcelain dental veneers can improve a number of dental issues and help you feel great about your smile. Please contact Modern Smiles for more information, or to schedule an appointment.