Gum Reshaping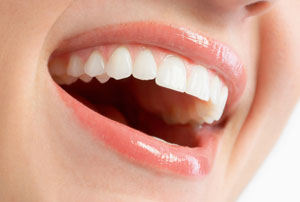 Excessive gum tissue along the teeth – also known as a "gummy smile" – can hide large portions of your teeth and ultimately lead to a feeling self-consciousness about your smile. Gum reshaping can be an excellent option for patients interested in reducing their gum "coverage" for a more proportional gum-to-tooth ratio. At our cosmetic dentistry practice, we offer a number of gum reshaping laser techniques designed to enhance your gum line for a more even contour throughout your mouth. Dr. Kasra Tajik, our highly-trained cosmetic dentist in North Hollywood, will utilize a specific laser treatment based on your individual needs to expose more of your teeth and help you achieve the beautiful smile you desire.
If you would like more information on our gum reshaping techniques, please contact Modern Smiles today.
Gum Reshaping Benefits
Utilizing advanced laser technology, Dr. Tajik can more evenly contour your gum line and improve the overall aesthetics of your smile. Some key benefits of our laser gum reshaping techniques include:
Precision control across gum tissues
Greater symmetry for your gum line
An improved gum-to-tooth ratio
Virtually painless procedure
Reduced bleeding and swelling
A reduced recovery period
Ultimately, gum reshaping from Dr. Tajik can help you safely and effectively achieve your oral goals and reveal a bright, vibrant smile.
The Gum Reshaping Procedure
Gum reshaping is minimally-invasive and can be administered under local anesthesia. During your procedure, Dr. Tajik will direct targeted laser energy across your gum line to help reveal more of your teeth. The precision of laser technology enables Dr. Tajik to evenly remove excess tissue while reshaping your gums for the most symmetrical appearance. Procedure times will vary depending on the extent of your goals, but most gum reshaping treatments can be completed in about one hour.
Recovery from Gum Reshaping
Due to its minimally-invasive nature, recovery and downtime from gum reshaping is typically minimal. Minor swelling and bleeding is normal and should subside relatively quickly. Although uncommon, any discomfort can be alleviated with medication. Results are long-lasting and can be seen immediately. Most patients are able to return to their normal daily routines the day after their treatment.
Contact Modern Smiles
For more information about our laser gum reshaping techniques, or to schedule a consultation with Dr. Tajik, please contact Modern Smiles today. Our experienced staff will answer any questions or concerns you may have about our cosmetic dentistry treatments and procedure.