Cosmetic Dentistry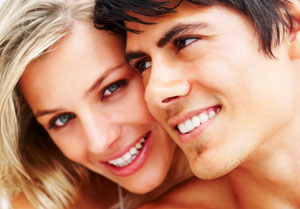 Dr. Kasra Tajik and our staff believe cosmetic dentistry can not only improve the health and aesthetics of your smile, but also your overall well-being. At our practice, we strive to achieve our patients' oral goals while also helping to improve the way they view themselves. In order to provide the highest level of dental care possible, Dr. Tajik offers a comprehensive span of cosmetic dentistry treatments and procedures ranging from teeth whitening to gum reshaping. By utilizing one of our effective and proven techniques, Dr. Tajik can help you achieve optimal oral health and the beautiful smile you desire.
Listed below are brief descriptions of the cosmetic dentistry treatments and procedures available at our practice. For more information on a particular treatment, please click on the link provided or contact our office to schedule a one-on-one consultation with Dr. Tajik.
Porcelain Veneers
Porcelain dental veneers can provide long-lasting, natural-looking restoration to teeth that are discolored, misaligned, chipped, cracked, or damaged in a variety of other ways. Composed of a thin porcelain shell, dental veneers are custom-designed to bond to the front of each tooth in order to enhance the look and function of your teeth.
Porcelain Dental Crowns
Dental implants can be a permanent solution to missing teeth. Unlike dentures and other traditional tooth replacement methods, dental implants actually become part of your mouth and do not slip or move around when you talk and eat. Additionally, implants are custom-designed to look like your natural teeth and require no extra maintenance other than normal brushing and flossing.
Smile Facelift®
A Smile Facelift® can help you rejuvenate your facial appearance while improving the health and aesthetics of your smile. This non-surgical procedure uses porcelain veneers to increase the volume of your teeth which can effectively lengthen your facial structure, smooth fine lines and wrinkles, and improve the appearance of sunken facial features for a more youthful, vibrant look.
Teeth Whitening
Teeth whitening can counteract the darkening effects particular foods or drinks, medications, smoking, and even simple aging can have on your teeth. This common treatment can help you dramatically lighten the color of your teeth almost immediately. Additionally, we offer in-office or at-home teeth whitening techniques to better suit your lifestyle.
Gum Reshaping
Gum reshaping can be used to treat a "gummy smile" by removing excess gum tissue covering your teeth and improving the symmetry of your gum line. The precision of our laser gum recontouring techniques will help you to achieve a fuller, brighter smile with little to no downtime or discomfort.
Cosmetic Dental Bonding
Cosmetic bonding can help repair chipped teeth, seal spaces between teeth, straighten alignment issues, and even restore decaying teeth. Dental bonding is the most conservative cosmetic restorative procedure available – in fact, many treatments can be performed without the need for anesthetic. And with the tooth-colored composite material used in the procedure, dental bonding can effectively resolve your particular issue while providing discreet, natural-looking results. Cosmetic dental bonding can typically be done in a single office visit.
Tooth-Colored Fillings
Tooth-colored fillings are composed of durable ceramic material that can be used to repair and fill cavities and decayed teeth. Courtesy of the latest dental advancements, tooth-colored fillings at our practice are now designed to match the color of your natural teeth and have none of the risks associated with traditional mercury-based, silver fillings. Tooth-colored fillings are bonded in place to help strengthen the tooth, ultimately creating a better seal than traditional fillings. They are also less sensitive, and they have a very natural look and feel. Plus, tooth-colored fillings allow Dr. Tajik to perform a more conservative preparation of the affected tooth, which can preserve more healthy tooth structure.
Porcelain Inlays and Onlays
Inlays and onlays are typically placed on the back teeth to prevent bacteria from settling into small grooves and along surfaces. This treatment can go a long way in reducing the chance of developing cavities in these teeth. Porcelain inlays and onlays can also serve to reinforce teeth that have small fractures or cracks when the damage may not necessitate a full dental crown. Inlays and onlays are tooth-colored, so they are virtually unnoticeable on your teeth.
Contact Modern Smiles
For more information on any of our cosmetic dentistry procedures, or if you would like to schedule a consultation, please contact Modern Smiles today. We will be happy to answer any of your questions or address any of your concerns.